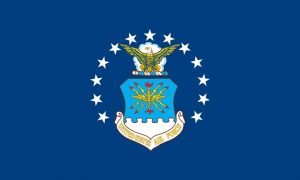 The United States Air Force flag was officially adopted by President Harry S. Truman on March 26, 1951. The design features the Air Force's coat of arms surrounded by 13 white, five-pointed stars on a blue background, the Air Force's branch color. The stars are a representation of the original 13 colonies. The three stars at the top represent the Departments of the Air Force, Army, and Navy. The American bald eagle, the national bird of the U.S., is featured on the crest in addition to a cloud formation depicting the creation of a new firmament, and a wreath with six alternate folds of blue and silver. Indoor or parade flags are decorated with gold fringe, while outdoor flags do not include this feature.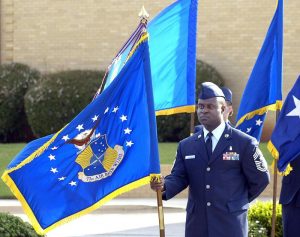 Eagle Flag is your one-stop shop for all things flag. Serving customers for more than 10 years, we're known for our affordable, heavyweight flags and our attention to detail.  Our flags are finished with heavy-duty, no-shrink white header material for strength.
Eagle Flag proudly manufactures all of our flags in the U.S.A.
We offer the following Air Force flag options:
Air Force Outdoor Nylon Flags
Indoor Nylon Air Force Flags – Pole sleeve Only
Indoor Nylon Air Force Flags – Pole sleeve and Fringe
Spearhead Air Force Flags
Indoor Outfits
Our Air Force Flags are made of high-quality nylon material and feature double-stitched seams and brass grommets. Each flag includes a reverse image on the back with a pole sleeve. A 2-inch gold fringe option is available as well as flag outfits for displaying in various environments.
Whether your needs are professional or personal, if you're a vexillologist (one who studies flags), vexillophile (flag enthusiast), veteran or a want to show support for our troops,  our inventory of Air Force flags and accessories will meet your needs. We ship in a timely fashion, with different sizes available for your event or ceremony.
Established in 1947, Air Force Day (August 1) is an appropriate time to display your Air Force flag.
Honor someone today by flying an Air Force flag.
Here are some tips to remember:
If flying multiple flags, the Air Force flag must be hung below an American flag.
The Air Force flag is positioned to the left of the American flag if on separate flag poles.
Follow standard guidelines when flying all flags to show the appropriate respect and care. Familiarize yourself with flag etiquette and procedures.
If you need more information about what size or type of flag to choose, or how to care for your flag, we have answers! Eagle Flag is proud to offer a variety of flags, poles and hardware, bunting, and other items to help you put your pride on display!
Purchase with confidence from Eagle Flag.